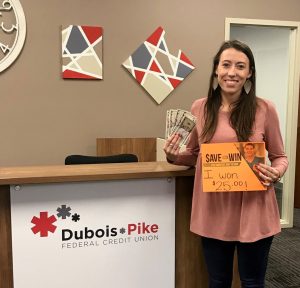 Chloe opened her Save to Win account just a few short months ago and was excited to hear the news that she was a lucky winner for October 2018!
We asked Chloe to give us a little feedback about her membership. Chloe responded with, "Dubois-Pike Federal Credit Union does a wonderful job of serving its customers. Each time I stop by, they are friendly, welcoming, and happy to help. I know I can trust them with my finances!"
Do you want to know all the details of the "Save to Win" account? Click here.
Stop by and see us to open your Save to Win account, and who knows, maybe you will be our next winner!