With our online banking and mobile app, you can transfer money, check balances, review transactions and more!
See below for all the additional features – remote control debit card, account alerts and notifications, external transfers, remote deposit, and to find Fee Free ATMs nationwide!
Our online banking is compatible with Intuit, QuickBooks, and TurboTax!
---
Remote Control Debit Card:
You have control! Both Online Banking and the Mobile Banking app have this security feature built-in. On the main menu, look for "Remote Control Cards". From there, you can remotely deactivate and activate your debit card with one tap if you misplace it.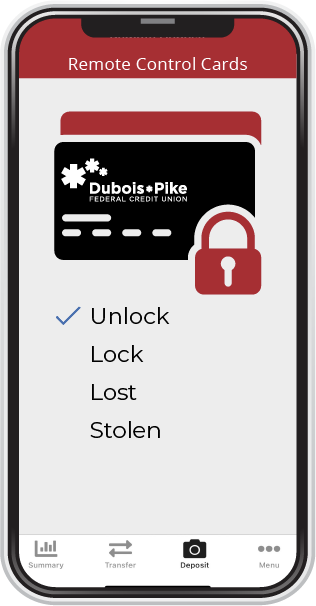 Choose a card status option:
Unlock: Allows you to use the card as normal.
Lock: Allows you to temporarily deactivate your card. You will be able to reactivate your card when you choose.
Lost: Select this option when you have lost your card and have looked for it but you cannot find it. You will need to call us for a replacement card. This option cannot be undone.
Stolen: Select this option if you physical card was stolen. You will need to call us for a replacement card. This option cannot be undone.
Turn your debit card "on and off" via Online Banking:
If you are using your internet browser, log in to our Internet Banking at duboispike.org and open the menu, then select Remote Control Cards under Accounts. From there you can select and change the status of your card.
---
Setting up Alerts and Notifications:
Receive email or mobile push notifications for account activity.  Login to Online or our Mobile Banking App and select NOTIFICATIONS to manage the types and frequency of your alerts.  You can sign up for alerts on the following: 
Debit card transactions
Deposits or withdrawals
Checking balance
Savings balance
Loan payment reminders
Billpay activity
And more!
Step by step instructions for mobile push notifications
Launch the DPFCU mobile banking app
Click on "menu" in the bottom right corner.
Then scroll to "Services" and click on "Notifications"
Click on "Enable Notifications"
Choose your parameters, such as balance alerts, transaction alerts, etc.
---
External Transfers:
External Transfers allow you to move money between your DPFCU accounts and those you have elsewhere.
Log in to your DPFCU online banking or through our mobile app to get started!
Complete the following steps to get your accounts set up:
Click on External Transfers/Manage Accounts
Enter the external routing and account number
Two small deposits will be sent to the connected account
You will then need to log back into your DPFCU account and enter the two small deposit amounts to verify the account (it may take up to two business days to see this option)
Transfers take 1-2 business days to complete
*Accounts must be opened a minimum of 30 days before this service is available.
---
Remote Deposit: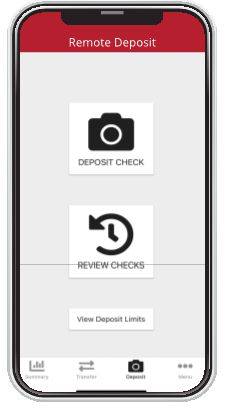 Deposit your paper checks using our mobile banking app. Click on the camera icon across the bottom panel that says "deposit". Follow the prompts to make your deposit.
Before depositing, please endorse the back of the check with the following:
Your Signature
For Mobile Deposit Only at DPFCU
2. Open the DPFCU mobile banking app. Click on the camera icon across the bottom panel that says "deposit". Follow the prompts to take a picture of the front and back of the check.
3. You will get an email notification when the deposit is accepted or declined. If declined, the email will state the reasoning.
4. Please keep the check in a safe place for at least 10 days in case we need you to present the physical check. After 60 days, destroy or properly dispose of the check.
---
ATM Locator:
Finding Fee Free ATM's has never been easier!
See our ATM & VISA Debit Cards page to find one of our 855,000 No-Fee ATMs Worldwide!
You can also log into your account via our mobile app to use the locators!
---
Questions or need help?
If you have any questions or need help with our online banking or the services that come along with it, please give us a call at 812-634-9278!