Gold or Platinum cards available
Low rates!
NO Annual Fees, Cash Advance Fees, or Balance Transfer Fees
Earn REWARDS with every purchase – cash back, gift cards, merchandise, travel, and more!

Redeem rewards by clicking the "Manage Your Credit Card" button above

Easy cash at nearly 855,000 ATMs around the world
View a full disclosure of our credit card program.
---
Already have a DPFCU VISA Credit Card?
Questions: Call us at

812-634-9278

during normal business hours

Lost/Stolen Cards – If after hours, call

1-855-511-8955

VISA Card Customer Service:

1-855-511-8955

Help with Rewards: Call

1-800-637-7728

Payment by mail:

Dubois Pike Federal Credit Union
P.O. Box 71050
Charlotte, NC 28272-1050

Billing Errors:

PSCU
P.O. Box 31112
Tampa, FL 33631-3112
Manage your DPFCU Credit Card with our Mobile App!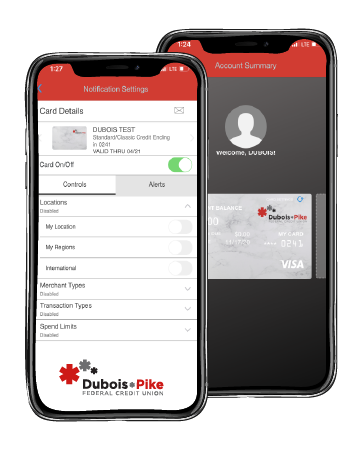 Search for DPFCU 360 CC in the Apple and Google Play stores.
With this app you can:
Activate your card
Make Payments
See balances
Review transactions
See your payment history
Turn your card on/off – if you lose it or suspect fraud
Report your card lost or stolen
and more!